"You Push Center Table Before You Sleep, Useless Human Being Like You" – Kwadwo Sheldon To Albert
Ghanaian content creator, Kwadwo Sheldon has lambasted Albert Nat Hyde over his earlier statement on Jackie Appiah's luxurious mansion.

In an earlier post, the controversial blogger stated, "Jackie Appiah didn't acquire all that through acting/filmmaking alone. She has sponsors. She did things. She won't tell y'all the full truth."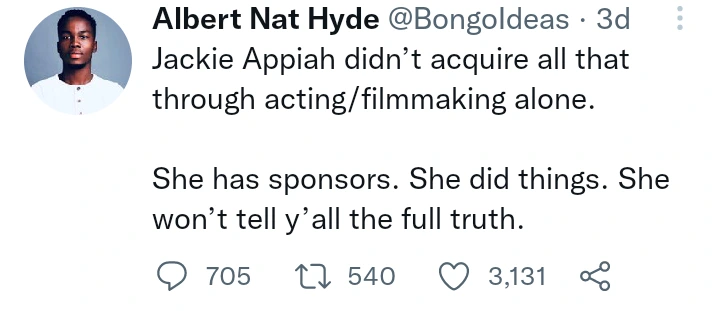 Albert, who feels being disrespected by Kwadwo Sheldon over his comment on the actress mansion took to Twitter to react.
He wrote;
"Hi @kwadwosheldon, I admire how you blatantly disrespect me on your YouTube channel without any provocation.
Don't run to seek public sympathy when the tables turn. You can't eat your cake and have it. 🤝"
Kwadwo Sheldon then retweeted and responded Albert Nat Hyde.
"Maybe you didn't get the memo.. Let me repeat it.. You live in an uncompleted building with your parents..You should be the last person to have an opinion about where Jackie Appiah got her money from.. Foolish boy!," he said.
He added, "You push center table before you sleep! Useless human being like you!".