JUST IN:New TML 1 Laptop Distribution Drops For Teachers; Details Dropped-CHECK.
The Ghana Education Service has released a new and updated TML1 laptop distribution schedule for teachers who are yet to be supplied with their laptops under the One Teacher One Laptop initiative.
The supply of laptops to teachers and other staff of the GES is part of the introduction of IT into education at the level of teachers to help them deliver quality teaching through the use of these laptops.
Per the new TML1, laptop distribution schedule Primary and KG teachers who are yet to receive their laptops will be supplied the TML1 nationwide from 25th November to 30th December 2022.
This will be followed by the supply of the TML1 laptops to education office staff from January 10th to January 30th, 2023 nationwide.
The final group of beneficiaries of the TML1 laptop is the teachers on study leave and those whose names are captured on the final supplement lists from the Ghana Education Service (GES).
This final category will receive their laptops from the 5th to the 25th of February 2023.
Vice President Mahamudu Bawumia Friday launched the "One Teacher, One Laptop" initiative to facilitate lesson planning, teaching and learning outcomes.
Ghana would not be left behind in the fourth industrial revolution era and would leverage on ICT tools to accelerate socio-economic development, he stated at the ceremony in Accra.
The government would pay 70 percent of the cost of the laptop, while each teacher pays the remaining 30 percent.
KA Technologies Ghana Limited, a locally-based ICT firm, is the manufacturer of the computer laptops.
The TM1 computer laptops have store of e-books and users could access other relevant teaching materials electronically.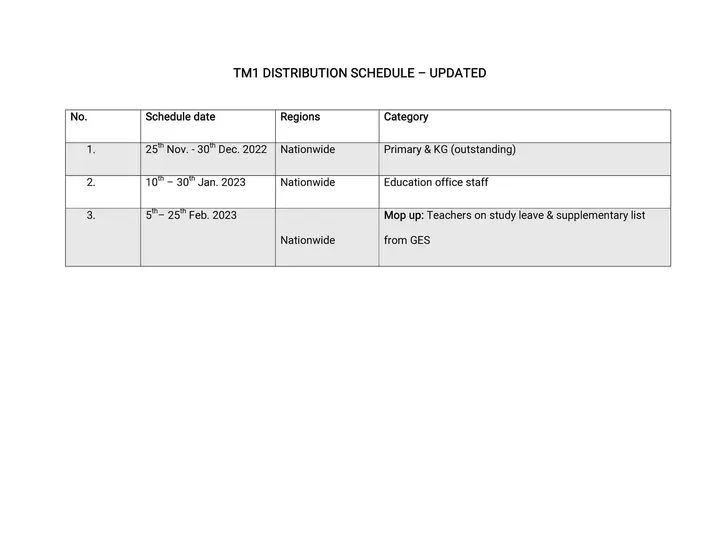 Source:Ghanaeducation.org